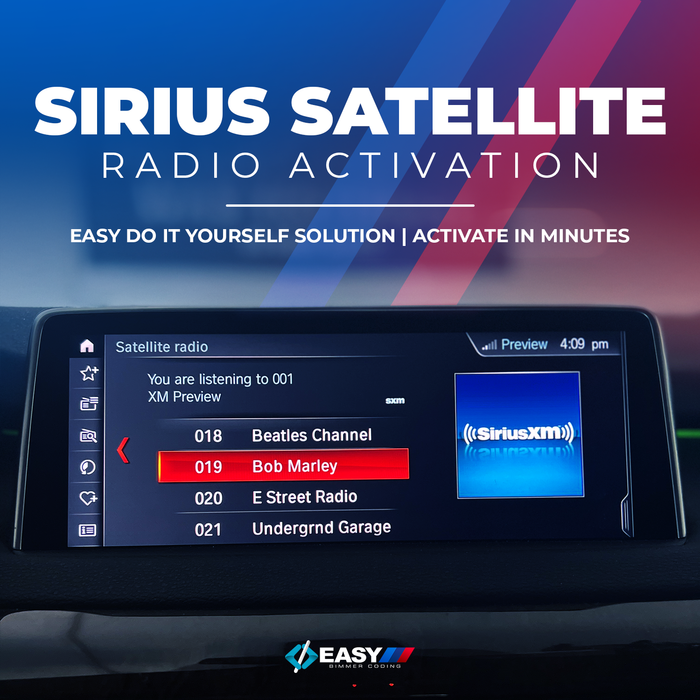 Sirius XM Satellite Radio Activation
150 premium channels. 30 seconds to install. 50% off dealer pricing.
6-12 months FREE Trial included!
The SiriusXM Satellite Radio Retrofit is your ticket to enjoying premium sat radio in your Bimmer.
USB Coding Activation process:
The USB coding process doesn't require any cables or laptops. All you need to do is drag and drop the coding file (that we send to you in an email) to the USB stick and insert it to your car. Your radio will restart and the coding will be performed automatically.

The USB activation is available ONLY for cars with  iDrive systems NBT AND NBT EVO (2014-2019) on Firmware Versions NBTEVO_O and previous (N,M,L,K,J,etc).

ENET CODING PROCESS:
For Firmware Versions NBTEVO_P and Later. (Q,R,S,T,U,V,W,X)
Simply Plug in the Cable and Enter our Code into our Easy Coding Tool and the Coding will automatically commence.
What channels will I get?

ALL Sirius XM Channels!

To check SiriusXM's latest channel lineup, visit their website.
Contact us if you have any questions about compatibility etc.